Louise is a believer in there's always a second chance. An actress since she was fifteen, she found herself unemployed when she was in her mid-forties. The reason was; well, she was in her mid-forties. Not a good thing if you' an actress – aging and eating are taboo. Louise has done both. Also, she was pretty clear about the fact that she was never going to have "knee surgery." That's what happens when an actress of a certain age drops out of sight for six weeks and her publicist announces that she's having an old knee injury repaired. Then the actress emerges with her eyebrows hiked up kind of high on her forehead and all those nasty little lines around her mouth seem to have vanished, and oh yeah, and her knee is working fine too.
The un-surgically enhanced Louise spent two years auditioning for commercials touting high fiber cereals and denture glue, she figured there had to be something better, and she decided to try writing scripts for soap operas. Writing had actually been her first love when she was a kid. She worked as a soap writer off and off; mostly off for the next few years. The trouble was, she got fired a lot. Because what she wanted to do was tell her own stories. Finally she fought off the devil voices; those voices inside your head that tell you you're an idiot for dumping a paying job to follow a dream, and wrote The Three Miss Margarets. It found a home at Random House and was published. It was followed by The Ladies of Garrison Gardens, Family Acts, and Serendipity.
Louise's latest novel, Looking For A Love Story, is about a recently divoced novelist facing a tough bout of writer's block who takes a job ghostwriting someone elses story.
Today a very happy Louise lives in the lower Hudson Valley with her husband of twenty eight years, her eight cats and two rescue dogs ; the regal Joshua, and Charlie. Who is not regal. Just ask the neighbors.

Louise Shaffer, is a graduate of Yale Drama School, has written for television, and has appeared on Broadway, in TV movies, and in daytime dramas, earning an Emmy for her performance on Ryan's Hope.

Listen to Louise's commentary for National Public Radio's All Things Considered, click "Second Acts".
Read Chapter 1 of Looking For A Love Story!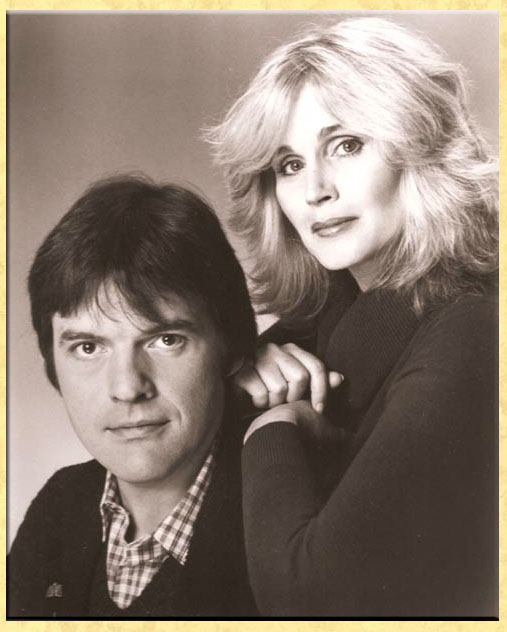 Louise and her husband, Roger Crews.
Listen to Louise's Serendipity Podcast.
Get the Latest News from Louise here!